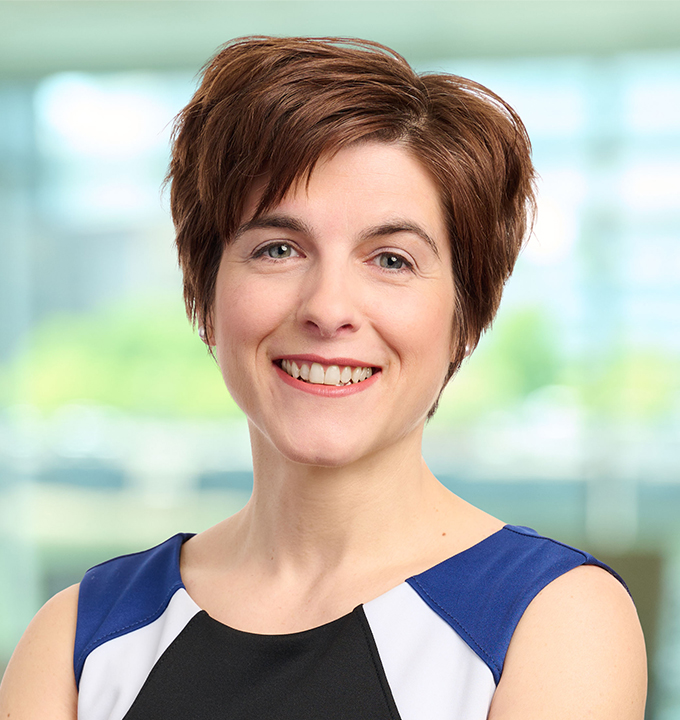 Stéphanie Smith
Partner
---
Administrative Assistant
Mary Boyea
Email
Stéphanie Smith's practice focuses on all aspects of employment law, including hiring and firing, performance management and disciplinary action, reductions in force, leaves of absence and other workplace accommodations, protection of intellectual property, and compliance with federal and state employment laws, including wage and hour laws, background checks, and leave laws. She advises clients on recent employment law developments, including compliance under the Massachusetts equal pay law and state marijuana laws.
She also represents clients in litigation matters before government agencies and state and federal courts, including those involving discrimination and harassment, wage disputes, contractual disputes, and ERISA benefit claims. She also represents clients in mediations and arbitrations, including before FINRA.
Stéphanie represents companies and individuals in connection with the drafting and negotiation of employment and severance agreements, non-competition/non-solicitation agreements, and non-disclosure agreements. She has experience drafting personnel policies and counseling clients on the use of independent contractors, interns, and volunteers. She also counsels clients in connection with internal investigations, including allegations of discrimination, harassment, and employee theft.
Stéphanie has conducted customized trainings and seminars on various employment-related topics, including sexual harassment and discrimination avoidance, and best practices for finding leadership for startups. Additionally, she has assisted with employment matters in connection with corporate transactions.
Prior to joining Casner & Edwards, Stéphanie was Counsel in the Labor & Employment Practice Group at WilmerHale. Before obtaining her law degree, she was a marketing manager for a medical software publisher.
Stéphanie speaks fluent French.
Honors & Awards
Boston Magazine, "Top Lawyers" – Labor & Employment, 2021-2022
JD, magna cum laude, Boston University School of Law
Bachelor of Commerce, Great Distinction, McGill University

Experience
Represented a chain of restaurants in an investigation by the Department of Labor into claims of unpaid overtime, resulting in a favorable resolution
Reached favorable settlement for clients in civil action alleging breach of non-competition obligations
Successfully resolved discrimination and harassment claims before the MCAD (both in private settlements and mediations)
Member, American Bar Association
Member, Massachusetts Bar Association
Publications
Client Alert: Ringing in 2023 – Important Legal Updates for Massachusetts Employers, 2023
Client Alert: Trio of Massachusetts Supreme Judicial Court Decisions Create Significant Impact on Wage Payments, 2022
Client Alert: Important COVID-Related Benefits Require Immediate Action by Massachusetts Employers, 2021
Author, "How New Mass. Family Leave Interacts With Existing Laws," Law 360, 2021
Client Alert: Massachusetts PFML Scenarios – Parental Leave, 2021
"Families First Coronavirus Response Act Provides Paid Leave for COVID-19 Related Absences," Massachusetts Bar Association's Section Review, 2020
Client Alert: Implementation of Massachusetts Paid Family and Medical Leave Program Delayed, 2019
Client Alert: Part I: Massachusetts Paid Family and Medical Leave - First Deadline is Less than a Month Away. Are you ready?, 2019
Client Alert: Part II: Massachusetts Paid Family and Medical Leave, 2019
Client Alert: Can Employees Delay Designating FMLA-Qualifying Leave as FMLA? DOL Says "No," Disagrees With Ninth Circuit, 2019
"Employer Insights From 11th Circ. Disability Bias Ruling," Law360, 2019
Client Alert: Employment Law Update – Are You Ready for 2019?, 2019
Quoted in "What Managers Need to Know About the FMLA," SHRM, 2018
Client Alert: Massachusetts Passes Sweeping Non-Compete Reform, 2018
Client Alert: U.S. Supreme Court Upholds Class Action Waivers in Arbitration Agreements, 2018
"Employment Law Update: A 'To Do' List for 2019," Massachusetts Lawyers Weekly, 2018
"Take Care When Drafting Executive Employment Agreements," SHRM, 2017
Client Alert: Employment Law Practice Tip – Early Lessons From Comey's Dismissal, 2017
Client Alert: Employers Will Be Working Overtime to Implement Final Rule, 2016
Finding Leadership for Young Life Science Companies, Kevin M. McGovern Family Center for Venture Development in the Life Sciences, Cornell University, 2014
Seminars
Co-presenter, "MCLE's '1st Look' FFCRA & the CARES Act" Webinar, 2020