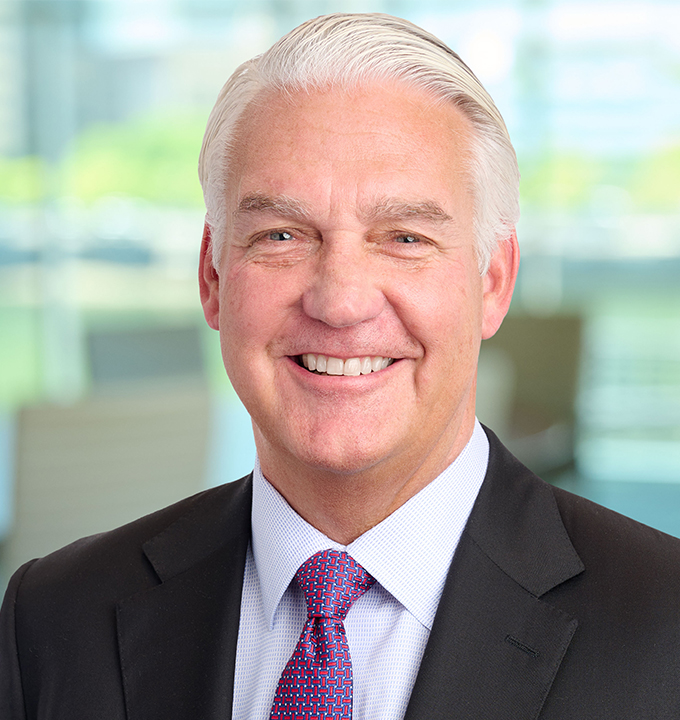 Scott S. Spearing
Partner
---
Administrative Assistant
Jean Tovern
Email
Scott S. Spearing focuses his practice on insurance coverage issues and construction law. With more than thirty years of experience as a trial lawyer and insurance coverage counselor, he is recognized for his work in analyzing the specific risks of transactions and advising clients on how to effectively transfer risks and structure insurance programs utilizing captive insurance companies and other alternative risk-transfer mechanisms.
Scott works with executives, risk managers, and claims managers of both national and international companies to provide comprehensive risk management consulting services, review insurance coverages, and negotiate insurance policy terms and conditions. Scott skillfully drafts custom-designed insurance policies for clients involving various types of coverages including general liability, directors and officers liability, property, terrorism, fiduciary, and crime. In addition, Scott is known for his work in insurance products relating to emerging risks such as pharmaceutical exposures, sexual misconduct claims, and cyber liability. He also regularly conducts insurance program reviews, provides insurance policy audits, and insurance due diligence services.
Scott's broad trial practice includes litigation of complex insurance coverage cases, construction matters, and corporate disputes. He has tried cases in state and federal trial and appellate courts across the country and in arbitrations in the United States and in Europe.
Prior to joining Casner & Edwards, Scott was a shareholder and founding member of Hermes, Netburn, O'Connor & Spearing, P.C.
Scott served as a Captain for six years in the United States Marine Corps.
Honors & Awards
The Best Lawyers in America - Insurance Law, 2024
Massachusetts
U.S. District Court for the District of Massachusetts
U.S. Court of Appeals for the First Circuit
JD, Northeastern University Law School
BS, U.S. Naval Academy
Experience
Addresses unique insurance coverage challenges faced by companies that conduct cross border transactions
Evaluates and interprets clients' insurance coverage and drafts custom-designed policies
Investigates complex insurance claims under various insurance products
Provides strategic advice to clients on insurance matters and risk management
Advises multinational companies to develop and maintain insurance coverage for first-party losses, such as property damage and business interruption
Advises multinational companies to develop and maintain insurance coverage for third-party liabilities, such as settlements and judgments in claims brought against corporations and their directors and officers by government regulators, shareholders, supply chain business partners, contracting parties, and other third parties
Advises multinational companies to develop and maintain insurance coverage for product contaminations and recalls, cybersecurity and data breach exposures
Member, Tort Trial & Insurance Practice Section (TIPS), American Bar Association
Former Senior Legal Advisor, Fidelity Law Association
Publications
Co-author, Handling Fidelity Bond Claims, Third Edition, (Chapter 95), Use of Outside Professionals, American Bar Association, 2019
Seminars
Co-presenter, What's in the Answer?, American Bar Association, Tort Trial & Insurance Practice Section, Fidelity and Surety Law Committee, Midwinter Meeting, 2022
Co-presenter and Co-author, It's Not A Direct Loss, But Is It Covered Property?, The Fidelity Law Association Annual Conference, 2021
Co-presenter and Co-author, Fidelity Insurance Underwriting – What is in the Underwriter's File and How is it Used?, American Bar Association, Tort Trial & Insurance Practice Section, Fidelity and Surety Law Conference, 2021
Co-presenter, Use of Outside Professionals, Fidelity and Surety Law Conference, 2019
Presenter – Insurance Coverage For Healthcare Data Breaches, Union Internationale des Avocats (UIA) – Seminar, 2019
Co-presenter and Co-author, Comparing and Contrasting Insuring Agreements (D) and (E), American Bar Association, Tort Trial & Insurance Practice Section, Fidelity and Surety Law Conference, 2018
Chair, The Fidelity Law Association Annual Conference, 2017