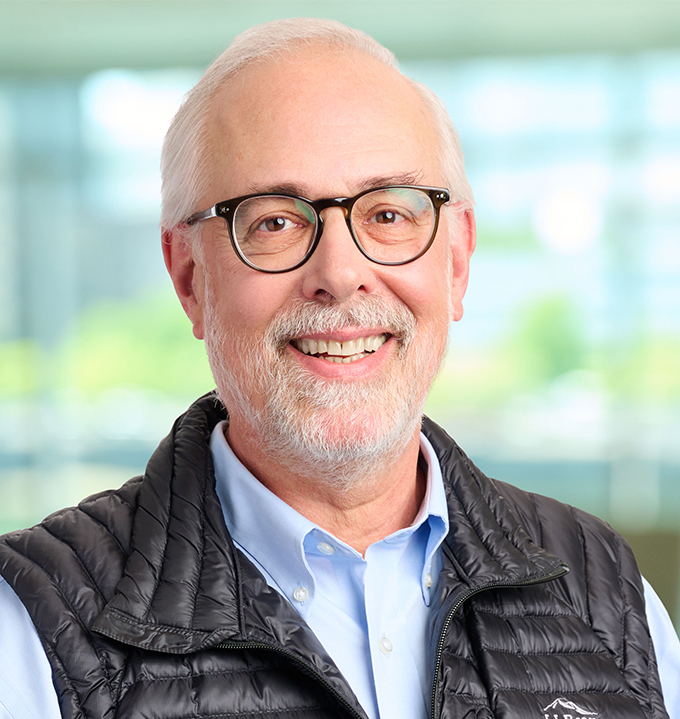 Greg D. Peterson
Partner
---
Administrative Assistant
Mary Lally
Email
With over 30 years of experience, Greg's practice encompasses nearly all aspects of real estate law -- purchase and sale transactions, joint ventures, leases and ground leases, development agreements, complex due diligence, land use, zoning and subdivision entitlement, title and survey review, easements, nested condominiums, and borrower-side financing. Greg has negotiated and closed well over $2 billion worth of commercial real estate loan facilities and workouts for borrowers. His industry experience includes biolab, lab/office and industrial properties, multi-family residential, mixed-use developments, energy facilities, and open space and agricultural land conservation.
Greg's environmental experience includes a wide range of state permitting and related environmental impact reviews, environmental remediation and cost recovery, brownfields redevelopment, indemnities, liability transfer and environmental insurance, brownfields tax credits deals, and the negotiation and crafting of consent orders resolving compliance matters with environmental regulators. Greg has been instrumental, as lead counsel or principal deal maker, in the permanent open space preservation of over 1,700 acres of land in Massachusetts, including the negotiation and drafting of numerous conservation restrictions, both for environmental non-profits and for landowners.
Greg provides strategic counseling to developers, numerous non-profits, investors, public utilities, educational and health care institutions, corporations and high net worth private owners in connection with complex commercial real estate transactions, environmental, permitting and land use projects, affordable housing, and open space land conservation transactions.
Alongside his environmental work, Greg guides clients through the complex process of legislative and regulatory policy development and drafting. Greg was a significant contributor to the 2006 Expedited Permitting Act and the Smart Growth Zoning Act, chapters 40R and 40S. He provided the successful strategic advice behind three notable SJC decisions over the last 15 years, one concerning MEPA law, one confirming the legislative exemption of landlocked tidelands from c.91 licensing, and one concerning a foundational question in the law of easements.
He represented the Lawyers Committee for Civil Rights Under Law in the negotiation and drafting of the Uniform Partition of Heirs Property Act, which to date has been adopted in 23 States and is pending in five more State legislatures. He represented the Real Estate Bar Association on the 2016 Massachusetts Senate Select Commission on Housing. Prior to joining Casner & Edwards, Greg was a partner at Tarlow Breed Hart & Rodgers, P.C. from 2009 - 2017, and prior to that was a partner at the global law firm, DLA Piper, LLC and the highly-regarded Boston firm of Hill & Barlow.
Honors & Awards
Designee, The Counselors of Real Estate
The Best Lawyers in America – Real Estate Law, Environmental Law, 2008-2024
Recipient, Sudbury Valley Trustees Lewis Conservation Award, 2011
Recipient, NAIOP Massachusetts Public Affairs Award, 2005
President, Real Estate Bar Association for Massachusetts, 2002
JD, cum laude, Harvard Law School
AB, magna cum laude, Columbia University
Real Estate
Advise Bio Med Realty in connection with the acquisition, land assembly, entitlement, ownership structuring and development of multiple lab/office and mixed-use projects including the precedent-setting 585 Kendall at Canal District Kendall in Cambridge, scheduled to open in 2025, and Assembly Innovation Park in Somerville. 585 Kendall was upzoned with a 9-0 vote of the Cambridge City Council and received an unanimously-approved Special Permit from the Cambridge Planning Board. It will be the first-ever mixed-use lab/office project globally to include a performing arts center (375 seats), as well as an acre-plus indoor-outdoor, all-season public commons providing additional arts space. Assembly Innovation Park will include 1.5 million square feet of lab/office space, amenity retail, the long-needed fire station for the Assembly Square area, and a public park.
Advise Hillwood in connection with the site acquisition, due diligence, title and survey review, environmental compliance, and development of major state-of-the-art, ground-up industrial projects in New England.
Planned, negotiated and drafted the comprehensive, multi-phase, multi-parcel cross easement agreement with a nested condominium and shared parking garage operating agreement for the Center for Life Science Boston. This 1.3 million-square-foot, high-rise biotech center adjacent to Harvard Medical School and Beth Israel Deaconess Medical Center is fully leased and was sold at the then-highest per square foot price ever achieved for a building in Boston.
Produced and implemented the strategy for the successful expedited permitting of Edgewood, the first major 40R smart growth project brought to market in Massachusetts. This 400-unit residential apartment complex is located on a portion of a former state hospital property. The rezoning of the property for by-right redevelopment received a unanimous Town Meeting vote.
Advise Brookfield in connection with the acquisition of existing and entitled multi-family properties in Boston and nearby communities.
Act as the ongoing, outside real estate counsel for Historic New England, including a variety of acquisition, disposition, historic preservation and open space preservation projects.
Act as the ongoing, outside real estate counsel for Historic New England, including a variety of acquisition, disposition, historic preservation and open space preservation projects.
Advised Fairfield Residential on local entitlements and State environmental impact review for the redevelopment of 8.25 acres of brownfields property in Chelsea for 692 units of multi-family rental housing and associated mixed uses.
Advised the Planning Office for Urban Affairs in connection with 40A and 40R overlay zoning districts for redevelopments in Haverhill and Brockton.
Assisted the Erickson Retirement Community at Linden Ponds in successfully modifying its 40B Comprehensive Permit for an additional 100-unit independent living building, confirming MEPA and MHC clearance, and providing related enforcement and land use opinions in connection with a major refinancing of existing industrial revenue bonds.
Negotiated and drafted an access easement on behalf of Beth Israel Deaconess Medical Center to protect BIDMC access and operations while allowing installation and servicing of a temporary oxygen tank farm for Children's Hospital.
On behalf of the private redeveloper, negotiated and closed the sale to UMass Lowell of over 300 units of multi-family housing in historic mill buildings for graduate student and honors college housing.
Negotiated and closed over $2 billion in real estate financings on behalf of borrowers.
Conceived the strategy for and co-wrote the amicus brief to the Massachusetts Supreme Judicial Court in Taylor v. Martha's Vineyard Land Bank Commission, which was largely adopted by the SJC in upholding the prohibition on overburdening of easements by owners of after-acquired property, expediting a permanent injunction for a third-party landowner and saving significant time and costs.
Tripled the number of affordable housing units in the Town of Carlisle, as Chair and principal deal maker for the Town of Carlisle Affordable Housing Trust.
Developed key elements of, and key evidence convincing the Legislature to adopt, the Expedited Permitting Act of 2006, including the Permitting Session of the Land Court and revisions to chapter 40A, the Massachusetts Zoning Act, to prevent appeals from blocking the effectiveness of Special Permits.
Represented the Lawyers Committee for Civil Rights Under Law in the negotiating, drafting and promulgation by the Uniform Law Commission of the Uniform Partition of Heirs Property Act, which as of Spring, 2023 has been adopted in 23 States and is pending before legislatures in five more States.
Environmental
Conceived and structured the environmental liability transfer arrangements for and negotiated $10 million in manuscripted environmental liability insurance policies with each of Kemper, Zurich and AIG which permitted the successful redevelopment of Kendall Square, Cambridge MA, a 10-acre former manufactured gas plant adjacent to MIT. Subsequently, this property won the prestigious US EPA Phoenix Award for best Brownfield redevelopment in America (2006).
Advise Harvard University on regulatory compliance for accelerated remediation of 21E sites and on cost recovery for sites impacted by off-property releases of oil or hazardous material.
Authored and implemented the strategy allowing the redevelopment by Hobbs Brook Management of a property with an ongoing, active 21E site controlled by a third party, resulting in the successful completion in early 2010 of a 300,000-square-foot LEED Gold complex on Route 128, which was fully and promptly leased.
Advise numerous clients on brownfields tax credits eligibility, applications, brokerage agreements and brownfields tax credit purchase and sale agreements.
Advise numerous clients concerning environmental remediation, PFAS impacts and PFAS risk management, vapor intrusion, activity and use limitations, cost recovery, brownfields redevelopment strategies, and the negotiation and drafting of liability transfers and indemnities and environmental insurance.
Provided extensive comments successfully influencing the 2014 revisions to the Massachusetts Contingency Plan, the regulations implementing M.G.L. c.21E, and subsequent MassDEP Guidance concerning vapor intrusion and Activity and Use Limitations
Instrumental either as lead counsel or principal deal maker in the permanent open space preservation of over 1,700 acres of land in Massachusetts, including a major climate change research forest, numerous high-value parcels in suburban Boston, properties with over a mile of frontage on the Concord River, a National Wild and Scenic River, establishing public trail access or agricultural rights, obtaining $1.8 million in earmarked Federal funds for property added to the Great Meadows National Wildlife Refuge, and negotiating and drafting numerous conservation restrictions both for non-profit environmental organizations and private landowners.
Drafted critical portions of the 2007 Act Restoring the Exemption from Chapter 91 Licensing for Landlocked Tidelands. This took place on the heels of the Supreme Judicial Court invalidating the DEP regulatory exemption of landlocked tidelands from licensing. Subsequently guided the litigation strategy for the case (Moot II) in which the SJC upheld the 2007 Act against a challenge that it violated the public trust doctrine, allowing the North Point project to be sold in 2010 and to resume redevelopment.
Obtained MEPA clearance in one year for Langwood Commons, a mixed-use 300-unit residential and 225,000 square foot office redevelopment, after nearly 10 years of delay.
Advise numerous clients concerning environmental regulatory and enforcement actions and negotiate and draft consent orders efficiently resolving enforcement actions.
Advise numerous clients concerning environmental regulatory and enforcement actions and negotiate and draft consent orders efficiently resolving enforcement actions.
Member, Massachusetts Senate Select Commission on Housing, 2016
Trustee, Carlisle Conservation Foundation, 1997-2015
Trustee, Town of Carlisle Affordable Housing Trust, 2007-2014
Member, Town of Carlisle Planning Board, 2006-2009
Publications
Various articles, REBA News
Various articles, Banker & Tradesman
Seminars
Presenter, American Planning Association Convention on the Uniform Heirs Property Act, 2011
Presenter, MCLE, Massachusetts Contingency Plan regulations, 2014
Presenter, REBA, Massachusetts Contingency Plan regulations, 2014