David Koha focuses his practice on business litigation and bankruptcy. David has extensive general litigation experience in state and federal courts representing businesses, nonprofit organizations, and individuals in contract disputes, trade secret litigation, employment issues, real estate matters, and other business disputes. David has experience in all stages of state and federal litigation, including jury trials and appeals.
David has particular expertise in bankruptcy law, with wide-ranging experience in all aspects of bankruptcy practice. David represents trustees, debtors, creditors, landlords, creditors' committees, and other interested parties in bankruptcy cases. He has extensive experience in bankruptcy litigation and appeals, including fraudulent transfer, preference, and nondischargeability proceedings. David has published numerous articles on bankruptcy topics, and has taught bankruptcy as an adjunct professor at Boston College Law School and New England Law School.
Honors & Awards
The Best Lawyers in America, "Ones to Watch" – Bankruptcy and Creditor Debtor Rights / Insolvency and Reorganization Law, Litigation - Bankruptcy, 2024
Massachusetts Super Lawyers, "Rising Star" – Bankruptcy: Business, 2015-2022
American Bankruptcy Institute, Medal of Excellence for outstanding performance in bankruptcy coursework, 2010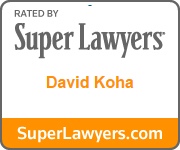 Massachusetts
U.S. District Court for the District of Massachusetts
U.S. Court of Appeals, First Circuit
JD, magna cum laude, Boston College Law School
BS, Boston College
Experience
Obtained favorable jury verdict in a six-day trial in Business Litigation Session of Suffolk Superior Court, defending clients against allegations of misappropriation of trade secrets, breach of duty of loyalty, and violation of M.G.L. c. 93A. The hard-fought case involved allegations that clients had wrongfully developed a competing product by misappropriating plaintiff's trade secrets and aiding and abetting former employees of plaintiff in breaching their duty of loyalty to plaintiff. The plaintiff sought over $8 million in damages; the jury rejected almost all of Plaintiff's contentions and found clients liable for less than $1,000.
Following extensive litigation, including bankruptcy court trial, appeal to district court and further proceedings following remand, Koha prevailed in obtaining judgment in favor of debtor-defendant in nondischargeability proceeding, resulting in discharge of $500,000 claim.
Obtained a summary judgment in Superior Court in favor of a real estate brokerage firm, determining that client was entitled to disputed commission. Successfully defended a Superior Court's decision on appeal to the Massachusetts Appeals Court.
Represented a large national franchisor in appeal before Massachusetts Appeals Court, where the franchisee had appealed the trial court's entry of summary judgment in favor of client with respect to allegations of breach of implied covenant of good faith and fair dealing. Prevailed in upholding judgment on appeal.
Represented a private equity firm in multi-state litigation filed in the Federal Bankruptcy Court for the Central District of California, defending the client against claims for breach of fiduciary duty. The highly contested and complex case revolved around the client's investment in a distributor of medical devices that filed for Chapter 11 bankruptcy relief. The litigation was commenced in the bankruptcy court by the Creditors' Committee, and it eventually involved concurrent proceedings before several federal district court judges. By vigorously contesting the allegations at every stage of the proceedings, and aligning the client's defense with other co-defendants, a very favorable settlement was obtained and the claims were ultimately dismissed with prejudice.
Represented a Chapter 11 Trustee in administering estate of perpetrator of a Ponzi scheme, who was subsequently convicted on account of the fraud. Obtained confirmation of Chapter 11 plan, resulting in significant distribution to victims of the scheme.
Represented Chapter 7 Trustee in liquidation of concrete contractor, bringing claims against debtor's parent corporation and former principals, for breach of fiduciary duty and recovery of fraudulent and preferential transfers, obtaining substantial recoveries for estate.
Represented Chapter 7 Trustee in liquidation of a Cambridge restaurant and sale of a liquor license. Investigated pre-petition transactions of debtor and brought claims against former owners and related defendants, obtaining substantial recoveries for estate.
Represented proponents of ballot initiatives in defending proposed measures before the Massachusetts Supreme Judicial Court and the Office of the Attorney General.
Member, Boston Bar Association
Former Co-chair, New Lawyers Committee of BBA Bankruptcy Section, 2013-2014
Former Member, Steering Committee, BBA Bankruptcy Section, 2015-2016
Publications
Author, The Meaning of Rejection in Intellectual Property Contracts and Beyond After Sunbeam, Norton Journal of Bankruptcy Law & Practice, 2012
Author, Eviction Proceedings and the Automatic Stay, Norton Annual Survey of Bankruptcy Law, 2012
Co-author, Recent Supreme Court Consumer Bankruptcy Cases, Norton Annual Survey of Bankruptcy Law, 2011
Author, BAPCPA's Eviction Exceptions to the Automatic Stay: An Absurd Result?, Norton Journal of Bankruptcy Law & Practice, 2010
Seminars
Co-chair, Young Bar Meets Bankruptcy Bench, Boston Bar Association, 2014