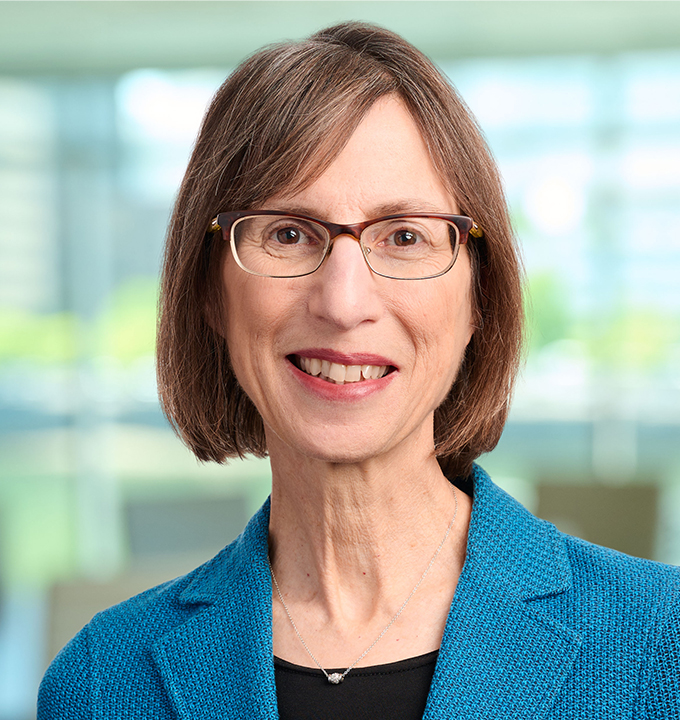 Anita S. Lichtblau
Partner
---
Administrative Assistant
Mary Lally
Email
Anita S. Lichtblau provides comprehensive legal advice to a wide variety of nonprofits and tax exempt organizations and businesses and individuals involved in nonprofit matters.
Anita served for fifteen years as both the General Counsel for Action for Boston Community Development (ABCD), a large nonprofit human services organization and Community Action Agency (CAA) that provides Head Start and other services to low-income people, and Executive Director of Community Action Program Legal Services (CAPLAW), a nonprofit providing legal training and technical assistance to the approximately 1000 CAAs across the country. In those positions, she advised, provided training, and wrote numerous articles and publications on many issues including those described above. She presented hundreds of in-person workshops and webinars across the national Community Action network.
Prior to holding those positions, she was a senior trial attorney with the United States Department of Justice handling white collar criminal cases in federal courts in New England and practiced with the Boston firm Hill & Barlow and the Washington D.C. firm Steptoe & Johnson.
Honors & Awards
The Best Lawyers in America - Nonprofit / Charities Law, 2021-2024
Massachusetts Lawyers Weekly, "Top Women of Law," 2018

JD, cum laude, Harvard Law School
BA, cum laude, Cornell University
Nonprofit Corporations, Charitable Trusts, Tax Exemption, and Governance
Forming new nonprofit organizations and related entities of existing nonprofits
Seeking Attorney General and court approval of changes in use or transfer of charitable assets
Obtaining and maintaining tax-exempt status
Donor Advised Funds
Drafting and updating bylaws and governance policies
Complying with fundraising and charitable organization rules and reporting requirements, including IRS Forms 990 and 990-PF and Massachusetts Form PC
Roles and responsibilities of effective nonprofit boards
Lobbying and political activity rules
Unrelated Business Income issues
Corporate restructuring, including mergers, acquisitions, and other affiliations
Dissolution
Grantmaking rules and other requirements applicable to private foundations
Property tax exemptions
Vendor contract drafting and review
Grants and Contracts
Contracts and grants with, and monitoring and audits by, federal, state, and local government agencies and private foundations
Creating and reviewing subcontracts for government-funded organizations
Compliance with federal and state grant program rules, such as Head Start and the Community Services Block Grant Act (CSBG)
Compliance with general federal and state grant and contract rules, such as the federal Office of Management and Budget (OMB) guidance on administrative grant requirements and cost principles and the Massachusetts human services procurement and contracting rules
Early education and care regulation
Employment
Internal investigations, discrimination, leave, employment and severance agreements, and wage and hour issues
Review of personnel policies
Co-chair, Boston Bar Association, Chapter 180 Working Group
Member, Board of Directors, Rebecca Pomroy Foundation
Former member and co-chair, Tax-Exempt Organization Section, Boston Bar Association
Publications
Co-author, "A Wage And Hour Compliance Reminder For Nonprofit Boards," Law360, 2020
Contributing author, "Chapter 4: Preparing IRS Forms 1023, 1023-EZ, and1024," MCLE's Massachusetts Nonprofit Organizations guide, 2016
Seminars
Co-chair & presenter, MCLE's 24th Annual Nonprofit Law Conference, 2023
Co-presenter, "Using Mergers, Acquisitions, and Other Strategic Alliances to Share Services and Programs," Providers' Council's 47th Annual Convention & Expo, 2022
Co-chair & presenter, MCLE's 23rd Annual Nonprofit Law Conference, 2022
Co-presenter, "Legal and FInancial Update and Best Practices," virtual Providers' Council's 46th Annual Convention & Expo, 2021
Presenter, RSM Annual Nonprofit Summit Series: Updates and Insights on Important Issues Affecting Nonprofits, 2019
Presenter, "Fiscal Sponsorship: Making the Right Connections," and "Advanced Governance: Navigating Executive Transitions," Community Action Program Legal Services (CAPLAW) National Training Conference, 2018
Presenter, "Nonprofit Executive Compensation from The Legal Perspective," Massachusetts Society of CPAs' Annual Nonprofit Conference, 2017
Presenter, "It's Election Season: The Rules of the Road on Political Activity of Tax- Exempt Organizations", Boston Bar Association, 2016
Co-presenter, Closing the Doors: Strategies for Community Action Agencies Unable to Survive, Community Action Program Legal Services, Inc. Webinar, 2015
Co-presenter, CLE Presentation: Strategies for Advising Nonprofits in Financial Distress, Boston Bar Association, 2015
Moderator & presenter, Community Action Program Legal Services, Inc. National Training Conference, 2015